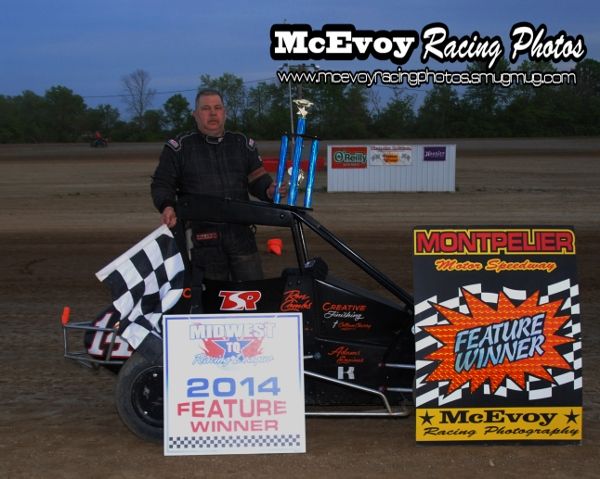 Greensburg, Indiana's Ronnie Combs won his ninth MTQRL feature on Saturday when the Midwest TQ Racing League presented by Jenmarco.com competed at the Montpelier Motor Speedway in Montpelier, Ind.
Polesitter Logan Arnold took the lead when the green flag waived to start the twenty-lap feature. The nineteen year old driver from Franklin, Ind. pulled away from the field with Cody Kiewitt, Ronnie Combs, Brett Hankins and Steve Arnold battling for the runner up spot.
Hankins passed Kiewitt for second on lap two, with Combs moving into the runner up position on lap five. Hankins briefly repassed Combs on lap six before Combs returned the favor the following lap and set his sights on L. Arnold.
With L. Arnold and Combs battling for the lead, four-time MTQRL champion Tate Martz was methodically working his way to the front after starting the feature in ninth position. On lap ten, as the leaders began to encounter lapped traffic, Martz passed S. Arnold for fifth place.
The only caution of the night flew on lap thirteen, when first year driver Paul Graybrook spun in turn two. On the restart, Combs continued to apply pressure to L. Arnold for the lead with five cars battling for third place.
Three laps later, the third place car of Brett Hankins slowed and pulled off the track. Kiewitt, who had been running strong all evening, inherited third, but was engaged in a tight battle with Martz, S. Arnold and Matthew Hedrick for the position.
With two laps remaining Combs dove under L. Arnold in turn two and took the lead going down the backstretch. Combs, driving Tony Stewart's #14S Tony Stewart Racing / Acro Racing / Creative Finishing / Jerry Wright Auto Body / Adams Performance Beast Kawasaki three-quarter midget took the win followed by Logan Arnold, Tate Martz, Cody Kiewitt and Steve Arnold. Matthew Hedrick, Kyle May, Chris Mann, Rob Walton and Jon Steed completed the top ten.
Perfect North Slopes heat winners were Cody Kiewitt and Ronnie Combs, Brayton Leisure was the Indy Race Parts Hard Charger after advancing eight positions, and Larry Kiewitt won the Jackson Oil & Solvents gift certificate. The Duane & Sonja Alexander Hard Luck Driver was Matt Arrington who was unable to start the feature after a broken oil line in his heat race.